Ask the Experts
Manual or Automated Assembly?
We are a new start-up assembling wireless sensors. All assembly is now manual, we have no automation. We are at a point where we are experiencing large ...
Responses by:


Mark Waterman
M.O.L.E. Line Product Manager, Electronic Controls Design, Inc. (ECD)

Fritz Byle
Process Engineer, Astronautics

KN Murli
Head-Quality, Astra Microwave Products, Hyderabad, AP India

Stephanie Nash
Director, Integrated Ideas & Technologies, Inc.

T.J. Hughes
Manufacturing Engineer, Esterline Interface Technologies

Steve Pollock
Vice President, Essemtec USA

Robert "Bob" Lazzara
President, Circuit Connect, Inc.

Mark J. Curtin
President, Transition Automation, Inc.
Glued SMT Components Falling Off
How to Remove Oxidization from SMT Component Leads?
Customer Approval for Repairs
Toe Fillet Requirements on Gull Wing Components
Acceptable Conductor Repair
Transfer Efficiency Greater Than 100%
Cleaning with Sodium Bicarbonate
February 7, 2023
It's Time to be Practical About Supply Chain AI
For the past two years the electronics supply chain has been about reacting to disruption — Covid-19, the chip shortage and endless logistics delays. In response, more supply chain stakeholders are embracing digitization and applying technologies such as artificial intelligence (AI) to help manage a wide range of supply issues. However, as of 2022, only 15% of companies are using AI ...
EPS News
VIEWPOINT 2023: Sven Frischen-Nocher, GM, COO, VP, INGUN USA, Inc.
2022 was a special year for INGUN USA. With another record year we also celebrated our 10th Anniversary. In these last 10 years, INGUN USA established itself not just as a reliable supplier to the electronics industry but more an important partner as our mission is to be a Partner for future technology. Wherever the trends ...
INGUN USA, Inc.
The potential use cases of 6G
Though 6G is not yet a viable technology, the time is fast approaching when 6G tools will become widespread. But what exactly does that mean for the uture of connectivity? ...
TechRepublic
Is Apple working on an 'Ultra' iPhone?
Apple is considering a more expensive iPhone "Ultra" that would slot in above the iPhone Pro, according to Bloomberg's Mark Gurman. He says the device could arrive as ...
Engadget
✷ ✷ Supplier Spotlight ✷ ✷
AVX Corporation
AVX is a leading international manufacturer and supplier of a vast portfolio of advanced electronic ...
atg Luther & Maelzer
We are the leading supplier of electrical test solutions for the printed circuit board industry. ...
All Flex Flexible Circuits
All Flex is a flexible printed circuits manufacturer that has consistently delivered high quality flex ...
Zero Defects International
Established in 2003 with products and services now provided throughout the world, we work with ...
Test Your Knowledge

Which one of the following is not a noble gas: helium, chlorite, neon, or krypton
See answer below.
Quote of the Day

"What is a cynic? A man who knows the price of everything and the value of nothing."
Oscar Wilde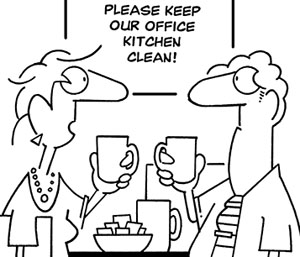 "We could hire a productivity expert, but wouldn't it be cheaper to buy a bigger coffee machine?"


Copyright © Randy Glasbergen
Test Your Knowledge Answer

Which one of the following is not a noble gas: helium, chlorite, neon, or krypton
Answer: Chlorite (is a mineral). The six noble gases that occur naturally are helium (He), neon (Ne), argon (Ar), krypton (Kr), xenon (Xe), and the radioactive radon (Rn).