Ask the Experts
Insufficient Barrel Fill on Through-hole Components
We are having issues with barrel fill. We are using a lead free, no-clean flux process. The issues is with through hole connectors with lead retention ...
Responses by:


Tim O'Neill
Technical Marketing Manager, AIM

Leo Lambert
Vice President, Technical Director, EPTAC Corporation

Bill Coleman
Vice President Technology, Photo Stencil

Kishan Sarjoo
Process Engineering Manager - Electronics, Altech UEC, South Africa

Mahesh V Draksharapu
Independent Consultant,

Tony Lentz
Field Applications, FCT Assembly

Brien Bush
Manufacturing Applications Specialist, Cirtronics Corp.

Kay Parker
Technical Support Engineer, Indium Corporation

Michael Kaminsky
Sr Fiald Applications Support Engineer, Kester Inc.

Fritz Byle
Process Engineer, Astronautics

Mark Northrup
VP of Advanced Technical Operations, IEC Electronics

Edithel Marietti
Senior Manufacturing Engineer, Northrop Grumman

Mitch Holtzer
Director of Reclaim Business, Alpha Assembly Solutions

Tom Schardt
Industrial Engineer, Red Lion Controls, Inc.
Package-on-Package Rework
Toe Fillet Requirements on Gull Wing Components
Gold Plating and Embrittlement
Soldering Multilayer Ceramic Chip Capacitors
Mixing Different SAC305 Solders
Dross Particles Sticking to PCBs
Cleaning with Sodium Bicarbonate
January 22, 2021
Designing Customized 'Brains' for Robots
Contemporary robots can move quickly. "The motors are fast, and they're powerful," says Sabrina Neuman. Yet in complex situations, like interactions with people, robots often don't move quickly. "The hang up is what's going on in the robot's head," she adds. Perceiving stimuli and calculating a response takes a "boatload of computation," which limits reaction time, says Neuman, who recently ...
MIT News
It's Time to Look at FD-SOI (Again)
The emergence of FD-SOI, (fully depleted silicon-on-insulator) and its subsequent maturity over the years, has made it one of the seminal process advancements for ...
EE Times
Finding the Cause of Cold Solder Joints
We have continual problem with our wave soldering system, especially cold solder joints. Could the cold solder joints be caused by using a selective soldering frame? ...
Circuit Insight - Board Talk
The Future Is Taking Shape Before Our Eyes
The US regulator for automotive safety, the National Highway Traffic Safety Administration (NHTSA), has just announced a change in the rules covering driving ...
Forbes
Why Qualcomm Is Set for Auto DMS Dominance
CES 2021 revealed in-cabin AI as the hottest trend in automotive. This has profound implications for the driver monitoring system (DMS) market, potentially setting ...
EE Times
Shake Up Coming For Auto industry
"Apple and Foxconn will change the automotive world," said Penn, "the auto industry is re-structuring - it's easier for Apple and Tesla to get into EVs than it is for the ...
Electronics Weekly.com
Beyond Bitcoin: China's Surveillance Cash
Of all the technological revolutions we'll live through in this next decade, none will be more fundamental or pervasive than the transition to digital cash. Money touches ...
IEEE Spectrum
✷ ✷ Supplier Spotlight ✷ ✷
Kester
Kester is a leading global supplier of ...
KVMS
KVMS was founded early 1999, in Turnhout, ...
Quasys AG
Since 1989, Quasys AG supplies the Swiss ...
Test Your Knowledge

What does a belonophobic fear?
See answer below.
Quote of the Day

"Never doubt that a small group of committed citizens can change the world. Indeed it is the only thing that ever has."
Margaret Mead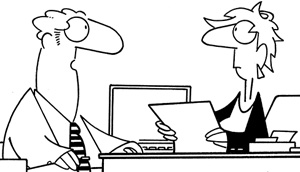 "I wanted to take an early retirement, but my parents made me go to college instead."


Copyright © Randy Glasbergen
Test Your Knowledge Answer

What does a belonophobic fear?
Answer: Needles