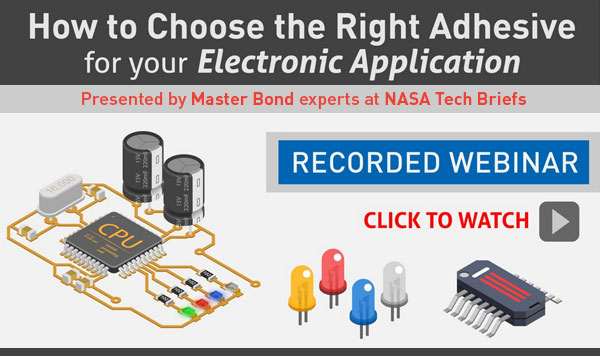 Watch this webinar for a practical discussion on choosing an adhesive, coating or potting compound for challenging electronic applications. Learn how to navigate the selection process while keeping in mind service conditions, desired properties and processing constraints.



EP30NG: Graphene Filled Epoxy for Thermal Management
Two component EP30NG is a graphene filled, non-drip epoxy that offers 5.5 W/(m•K) thermal conductivity. Click to learn more about the handling and performance properties of this unique system.



How To Use Adhesives Packaged in Premixed & Frozen Syringes?
Premixed and frozen syringes are a convenient packaging option for two component adhesive systems. This video outlines specific handling requirements including the storage and thawing techniques necessary to ensure proper dispensing of the adhesive.



Supreme 3CCM-85: One Part Epoxy for Chip Coating
This non-premixed and frozen, one component system is formulated to cure at the lower temperature of 85°C, which is ideal for sensitive electronic parts. It is well suited for glob top, bonding, sealing, coating, and small encapsulations.



This email was sent to *|EMAIL|* - Unsubscribe.
*|LIST:ADDRESS_VCARD|*
Circuitnet Media, LLC
6 Liberty Square #2040, Boston MA 02109 USA