May 22, 2015

51,000 Subscribers
Test Your Knowledge
When was artificial rain first used?
See answer below.
Cartoon of the Day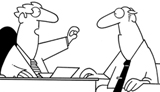 "If a stock goes sour and leaves a bad taste in your mouth, try one of these - they're InvestMints!"
Copyright © Randy Glasbergen
Hon Hai Expected to Secure 70% of New iPhone Orders
Hon Hai Precision Industry Co. is expected to secure 60%-70% of the orders placed by Apple Inc. to assemble the next generation of the iPhone, an analyst said. Kuo Ming-chi, an analyst with Taipei-based KGI Securities, said that as Hon Hai boasts a higher yield rate in assembling ...
The China Post
Researchers use graphene to control light waves
A team of MIT scientists has combined graphene with a second, similarly structured material, producing a hybrid that can wield significant control over light waves. ...
Gizmag
The 10 Qualities of Exceptional People
Counter to what many believe, accolades are not really what success is about. To be rich is to have money and status, but to be wealthy is to have physical, emotional ...
Entrepreneur
Cause of SMT Component Shift?
We are running the exact same boards through identical ovens, yet we're experiencing component shift with only one oven. What is the reason and the solution?
Circuit Insight - Ask the Experts
Why IoT Needs 5G
When 5G, the fifth generation of wireless communications technology, arrives in 2020, engineers expect that it will be able to handle about 1000 times more mobile ...
IEEE Spectrum
How This Simple Trick Can Keep You Organized Every Day
Being entrepreneurial doesn't always mean that you're a whiz at prioritizing and organizing. These are skills that take time and training to develop. Every so often ...
Entrepreneur
2015 Top 25 Global Franchised Distributors
EBN's list of the top 25 global franchised distributors is like any A-list party: at first glance, it's clear that all the right people are in attendance. In fact ...
EBN
Why Smartwatch Pulses Are Weak
Today's wearables don't pass a physical exam, according to the chief executive of a startup that's designing a medical-grade device. Julien Penders will share his ...
EE Times
Cleaning Conformal Coated Boards After Rework
We need to rework conformal coated circuit board assemblies. After the rework is completed, can we send the board ...
Responses by:


■

Chris Palin, European Manager, HumiSeal




■

Umut Tosun, Application Technology Manager, Zestron America




■

Jade Bridges, European Technical Support Specialist, Electrolube Ltd




■

Charlie Pitarys, Inside Sales Technical Manager, Kyzen Corporation



Quote of the Day
"I'm all in favor of keeping dangerous weapons out of the hands of fools. Let's start with typewriters."
Solomon Short
Test Your Knowledge
When was artificial rain first used?
Answer: Artificial rain was first used near Concord, New Hampshire, in 1947 to fight a forest fire.