April 24, 2014

Circulation Over 51,000
Test Your Knowledge
What are the two dimensions apart from length and width?
See answer below.
Cartoon of the Day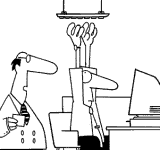 Suspending your keyboard from the ceiling forces you to sit up straight, thus reducing fatigue."
Copyright © Randy Glasbergen
Apple's Profit Still Climbs, But Pressure is Growing
Apple's remarkable growth streak -- now more than a decade old -- is starting to fade a little. Apple reported that its revenue for the last quarter climbed 5% in the same period the year earlier. The company's earnings were up about 7% in the same quarter a year ago ...
The New York Times
No-Poaching Settlement Could Spur Tech Talent War
Adobe, Apple, Google, and Intel reportedly close to settling a lawsuit over agreements not to recruit each other's employees. Tech pros could benefit from more ...
Information Week
Global tablet shipments drop 30% sequentially in 1Q14
Global tablet shipments reached only 58.56 million units in the first quarter of 2014, down almost 30% sequentially, but up 4.6% on year despite Samsung ...
Digitmes
The Death of the Smartphone
The biggest trend that was not reported at the Mobile World Congress (MWC) in Barcelona at the end of February was that, instead of lugging around four ...
EE Times
Head and Pillow SMT Failure Modes
This paper describes critical factors affecting head and pillow and how to identify the root cause and give potential solutions to prevent the defect.
IPC Outlook - Analysis Lab
Circuit Designs Using 6 Components or Less
I recently came across a really unique book written by Thomas Scarborough. It is an anthology of small designs of six electronic components or less. Sometimes ...
EBN
Graphene and Carbon Nanotubes Join Forces to Tackle Supercapacitors
Graphene and carbon nanotubes have been competing for many of the same applications for years, especially in the broad area of electronics. The jockeying ...
IEEE Spectrum
How To Determine Stencil Thickness
On what basis is stencil thickness decided in the case of BGA's or fine pitch components? The Assembly Brothers dive in.
IPC Outlook - Board Talk
IBM unveils new server model to tackle big data, analytics
International Business Machines Corp, in its latest attempt at reviving demand for its hardware products, is launching high-end system servers that it says ...
Reuters
Increasingly, Robots of All Sizes Are Human Workmates
Most industrial robots are far less friendly than the Roomba robot vacuum cleaner, which is safe enough to be a surprisingly popular means of feline ...
MIT Technology Review
Ultracapacitor Breakthrough May Recharge Energy Storage
Ultracapacitors, also called supercapacitors, serve as temporary energy storage that can quickly charge and discharge for everything from regenerative ...
EE Times
The Green Implosion
Why hasn't Clean Tech made more of an impact? The energy generated by solar, wind, and other so-called green energy technologies is simply too unreliable ...
IPC Outlook - Technology Briefing
Slimming ICs to a Single Molecule Wide
Keeping heat and electricity from leaking out of integrated circuits becomes so difficult below the 20nm level that everyone from large chipmakers to academic ...
EE Times
Public Companies Fail in Dodd-Frank Compliance
For a long time, the industry has been deep in conversation about the reporting requirements for the Securities and Exchange Commission's Dodd-Frank rules ...
EBN
Beyond Smocks & Straps: Auditing ESD Protection
When you evaluate an electronic manufacturing services provider, look beyond the appearances of electrostatic discharge (ESD) protection efforts. Complete an ...
EBN
Syringe Dispensed Solder Paste for Hand Soldering
You recently had a discussion about the application of liquid flux for hand soldering operations. Would you advise using a syringe to dispense solder paste as an ...
Responses by:


■

Doug Dixon, Global Marketing Director, Henkel Electronics




■

Edward Zamborsky, Regional Sales Manager, OK International Inc.




■

Fritz Byle, Process Engineer, Astronautics




■

Doug Pauls, Principal Materials and Process Engineer, Rockwell Collins




■

Peter Biocca, Senior Market Development Engineer, Kester



Quote of the Day
"Louis Pasteur's theory of germs is ridiculous fiction".
Pierre Pachet, Professor of Physiology at Toulouse, 1872
Test Your Knowledge
What are the two dimensions apart from length and width?
Answer: Depth and time
Coffee Break
Here's a Riddle for Ya
How about if I try a little riddle on you. My mother and father had a baby and it's not my brother and it's not my sister, who is it?