November 21, 2014

51,000 Subscribers
Test Your Knowledge
What is a mangonel?
See answer below.
Cartoon of the Day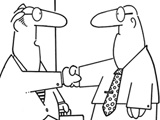 "Can we swap glasses? It helps me see things from the customer's point of view!"
Copyright © Randy Glasbergen
Notebook PC Shipments Rise Year Over Year
According to preliminary results from the upcoming DisplaySearch Quarterly Mobile PC Shipment and Forecast Report, in the third quarter of this year, the global notebook PC market grew 10% year over year, to reach 49.4 million units. Global shipments of tablet PCs, by comparison ...
IHS iSuppli
Problems with blow holes
We are having problems with what appear to be blow holes on one particular part of an assembly we run frequently. We have experimented with different ...
Responses by:


■

Todd O'Neil, Sales Manager, Soldering products, JUKI Automation Sys.




■

Paul Austen, Senior Project Engineer, Electronic Controls Design Inc




■

Christian Ott, Sales Manager, Seho




■

Greg York, Technical Sales Manager, BLT Circuit Services Ltd



Quote of the Day
Great minds discuss ideas, average minds discuss events, small minds discuss people."
Hyman Rickover
Test Your Knowledge
What is a mangonel?
Answer: A mangonel was a piece of military equipment used to launch stones.