July 30, 2014

| | |
| --- | --- |
| 51,000 Subscribers | |
Test Your Knowledge
What type of fruit would you pick from a Mirabelle tree?
See answer below.
Cartoon of the Day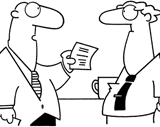 "I'm inviting you to my seminar on Improving Your Communication Skills. If you'd like to attend, grunt once for yes or twice for no."
Copyright © Randy Glasbergen
Stanford 'Holy Grail' Breakthrough May Triple Battery Life
Researchers at Stanford University have made progress toward designing a battery with a lithium anode, a development that could increase battery power in electronics. Reporting in the journal Nature Nanotechnology, the researchers described how they designed a lithium-metal ...
PC World
Printing the metals of the future
3-D printers can create all kinds of things, from eyeglasses to implantable medical devices, straight from a computer model and without the need ...
Scientific American
'Bad timing' wiped out dinosaurs
The huge asteroid that hit Earth 66 million years ago was very bad timing for the dinosaurs, a new study says--it wiped them out, but they probably ...
USA Today
Lead-Free Reflow Soldering
We have a 1997 reflow oven which has 5 heating & 2 cooling zones. We have gathered profiles from paste manufacturers, but we don't have data ...
Responses by:


■

Phil Zarrow, Principal Consultant, ITM Consulting




■

Mark Stansfield, Managing Director, SolderStar Ltd.




■

Karl Seelig, Vice President of Technology, AIM




■

Richard Burke, National Sales Manager, Datapaq




■

Marc Peo, President, Heller Industries Inc.



Quote of the Day
"Glory is fleeting, but obscurity is forever."
Napoleon Bonaparte
Test Your Knowledge
What type of fruit would you pick from a Mirabelle tree?
Answer: Plum
Coffee Break
On Call Surgeon
A surgeon is trapped on the phone during a life and death operation.