December 4, 2013

Circulation Over 51,000
Test Your Knowledge
What is the brightest planet seen from Earth?
See answer below.
Cartoon of the Day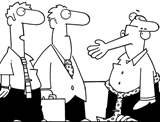 "That's our CIO. He's encrypted for security purposes."
Copyright © Randy Glasbergen
DEK to be Acquired by ASM PT
Printing technology market leader DEK announced that ASM Pacific Technology entered into an agreement to acquire DEK. ASM PT is the world's leading supplier of equipment for the electronics manufacturing industry and is traded on the Hong Kong Stock Exchange. If the ...
DEK
IDC Forecasts PC Shipments to Fall by Double Digits In 2013
Worldwide PC shipments are expected to fall by -10.1% in 2013, slightly below the previous projection of -9.7%, and by far the most severe yearly contraction ...
IDC
If China Goes to War ...
If China goes to war, the electronics and global manufacturing supply chain will be completely muddled up. It will lead to the worst of all worst case ...
Electronics Purchasing Strategies
Semiconductor Sales Recover in 2013
Following a 2.5% decline in 2012, the global semiconductor market has regained its footing in 2013 with revenue set to expand by nearly 5% because of the strong ...
IHS iSuppli
Lifted Leads on QFP Components
After placement and reflow, we are having a random lifted lead problem on some QFP's. Is a 1% fall out rate normal? What might be the cause?
IPC Outlook - Ask the Experts
Baja Bid to Auction SMT Equipment: Siemens, Universal, Teradyne, JOT & More
Baja Bid announces their next online auction. This exchange auction includes equipment from several companies through-out the United States and Canada ...
Baja Bid
Indium Corporation, Kyzen, DEK Host Seminar in the Philippines
Indium Corporation, Kyzen, and DEK hosted a technical seminar on November 27, 2013 in Manila, Philippines. The seminar, titled Soldering, Cleaning ...
Indium Corporation
Zip-lock Bags vs. Heat Sealed Bags
Are zip-lock bags vs. heat sealed bags an acceptable option for storage of moisture sensitive components?
Responses by:


■

Subrat Prajapati, Supplier Quality Leader, Ge Healthcare




■

Paul Austen, Senior Project Engineer, Electronic Controls Design Inc




■

Umut Tosun, Application Technology Manager, Zestron America




■

Fritz Byle, Process Engineer, Astronautics




■

Rick Perkins, Chemical Engineer / Owner, Chemical Logic Inc.




■

Jerry Karp, President, JSK Associates



Quote of the Day
"Do not confuse motion and progress. A rocking horse keeps moving but does not make any progress."
Alfred A. Montapert
Test Your Knowledge
What is the brightest planet seen from Earth?
Answer: Venus
Coffee Break
Honey, If You Like, Get It
Honey you know all those thing I've been wanting to buy? Do you think we could possibly get them ...