March 7, 2014

Circulation Over 51,000
Test Your Knowledge
What's the Arabic answer to the Roman subtraction M minus IX?
See answer below.
Cartoon of the Day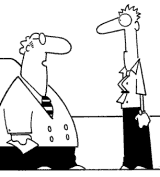 "I'm transferring you to another office, Dave. Many of us are on a low-carb diet and you look like a french fry."
Copyright © Randy Glasbergen
Click news headline for a summary, or source for the full story.

iPhone 6: Most Massive iPhone Launch Yet
Apple is apparently getting ready for a massive iPhone 6 launch, at least according to Chinese publication Commercial Times. According to the report the trade paper has learned that Foxconn is expected to land orders for 90 million iPhone 6 units this year alone. An analyst at Citigroup ...

ESD: Protection in the Nanosecond World
It's a familiar scene. I'm at my desk –- coffee cup in hand –- when the phone rings. I always know that on the other end of that call must be an engineer ...

Google Glass Still Needs a Killer App
Aside from the fact that it's not yet publicly available, there are plenty of reasons to not wear Google Glass even if you get the chance. To name just a ...

Cleaning with Sodium Bicarbonate
Is there an affect on PCBA long term reliability for assemblies cleaned with a "Sodium Bicarbonate" scrub, followed by DI water rinse, to remove tarnishing of silver immersion plating?
Responses by:


■

Charlie Pitarys, Inside Sales Technical Manager, Kyzen Corporation




■

Doug Pauls, Principal Materials and Process Engineer, Rockwell Collins




■

Mark Finstad, Senior Applications Engineer, Flexible Circuit Technologies




■

Peter Biocca, Senior Market Development Engineer, Kester



Quote of the Day
"Expecting the world to treat you fairly because you are a good person is a little like expecting the bull not to attack you beause you're a vegetarian."
Dennis Wholey
Test Your Knowledge
What's the Arabic answer to the Roman subtraction M minus IX?
Answer: 991
Coffee Break
The Newly Married Couple
Ninety-two year old Ephraim and ninety-one year old Emma decide to get married despite their advanced age.