August 22, 2014

51,000 Subscribers
Test Your Knowledge
If an object is hastate what shape is it?
See answer below.
Cartoon of the Day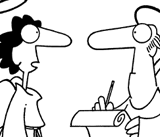 "The last thing I remember, I was sitting in a staff meeting. Apparently, I died from boredom."
Copyright © Randy Glasbergen
Future Growth Facing the Consumer Electronics Industry
Electronics manufacturing is shifting in a direction that responds to the latest trends in purchasing and using consumer electronics. Entertainment, health, and fitness are some of most popular uses of consumer electronics today, one of the largest segments in the manufacturing ...
EBN
Should we buy new low cost assembly equipment?
With many new companies designing and building PCB assembly machines (wave solder, reflow, stencil printers, etc) in China at ...
Responses by:


■

Joe Belmonte, Principal Consultant, ITM Consulting




■

Bob Black, President and CEO, Juki Corporation




■

Terry Jeglum, President/CEO, Electronic Technology Corporation




■

Edward Zamborsky, Regional Sales Manager, OK International Inc.




■

Marc Peo, President, Heller Industries Inc.




■

Allen W. Duck, CEO, ATEK llc



Quote of the Day
"The worst day of fishing beats the best day of working."
Anonymous
Test Your Knowledge
If an object is hastate what shape is it?
Answer: Triangular
Coffee Break
How Many Men Have You Been With?
Effie after all these years of marriage, there's one thing I've always wondered. How many different men have you been with?