October 17, 2019
European Wearables Market More than Doubled
Shipments of wearable devices in Europe grew 154.4% year over year to 13.4 million units in the second quarter of 2019. In 2Q19, earwear accounted for 52.3% of shipments in the region, followed by watches (26.7%) and wrist bands (20.7%). The top 5 countries in the region in 2Q19 were the United Kingdom, France, Germany, Russia, and Italy, with Russia growing at a faster pace year over year ...
IDC
Ways to Curtail PCB Assembly Cost is Easy Now
PCB assembly cost cut down is a thinkable subject. PCB is the abbreviated form for printed circuit board assembly that is often used to connect electronic components ...
Itech Post
Flying Cars Surge Forward
After decades of failed projects, a new class of vehicles is finally emerging that could transform the way people and cargo are moved within and between cities.
Circuit Insight - Technology Briefing
Problems With Large Voids
I work at a very fast paced quick turn prototype house. Recently we had large voids on a 30mm x 30mm QFN Module. The voids were 50%-75%. Every single board failed.
Circuit Insight - Ask the Experts
Test Your Knowledge Answer

What unit of heat will raise the temperature of one gram of water by one degree Celsius?
See answer below.
Overlap Solder Joint Failures
What is the strongest way to connect two 8mm flexible LED strips together? We now lap solder one strip that has "U" shaped pads onto another strip that has rectangular ...
Responses by:


Terry Munson
President/Senior Technical Consultant, Foresite

Richard D. Stadem
Advanced Engineer/Scientist, General Dynamics

Gary Goldberg
President and CEO, PROMATION, Inc.

Karthik Vijay
Technical Manager - Europe, Indium Corp.

Fritz Byle
Process Engineer, Astronautics

Kishan Sarjoo
Process Engineering Manager - Electronics, Altech UEC, South Africa

Edithel Marietti
Senior Manufacturing Engineer, Northrop Grumman
More Ask the Experts
Quote of the Day

"Man will occasionally stumble over the truth, but usually manages to pick himself up, walk over or around it, and carry on."
Winston Churchill
What Year Was It?
Capone Goes to Prison
Gangster Al Capone is sentenced to 11 years in prison for tax evasion and fined $80,000, signaling the downfall of one of the most notorious criminals of the 1920s and 1930s.
The day was Oct 17. What year was it?
Cartoon of the Day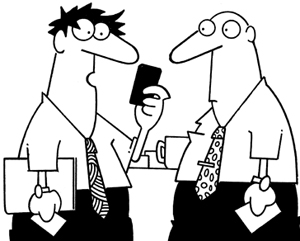 "Johnny Cash, Eddie Money, Andrew Gold, Bread, Big & Rich... I think I found the boss's iPod."


Copyright © Randy Glasbergen
Test Your Knowledge Answer

What unit of heat will raise the temperature of one gram of water by one degree Celsius?
Answer: One calorie