December 17, 2014

51,000 Subscribers
Test Your Knowledge
What do you call an atom that has fewer electrons than protons?
See answer below.
Cartoon of the Day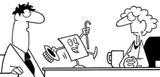 "I want my resume to be the one you remember!"
Copyright © Randy Glasbergen
As Robots Grow Smarter, Workers Try to Keep Up
A machine that administers sedatives recently began treating patients at a Seattle hospital. At a Silicon Valley hotel, a bellhop robot delivers items to people's rooms. Last spring, a software algorithm wrote a breaking news article about an earthquake that The Los Angeles Times ...
The New York Times
Top consumer electronics design articles of 2014
Here are some of the top design articles and blog posts (as measured by page views and comments) on the EDN Consumer Electronics Design Center during 2014: Bruno Putzey's ...
EDN
UV Conformal Coating Process Development
This paper provides a review of a conformal coating process development for a coating using UV light to provide the cure mechanism.
IPC Outlook - Materials Tech
IBM Says PCM Non-Volatility Not Essential
At IEDM 2014, IBM claims that for PCM, non-volatility/data-retention is no longer essential. Ron Neale takes a close look. In its invited paper [Ref 1] at IEDM 2014 ...
EE Times
Europe's Internet Use Surges
When it comes to surfing the web, Europeans -- just like their counterparts in the United States -- just can't get enough. That's the verdict of new figures ...
The New York Times
Inventec acquires Amtech
On December 16, 2014 it was announced that SMT International LLC, the manufacturer of
AMTECH solder pastes and process support products, was acquired by Inventec Performance...
Inventec
What is the Shelf Life for a Syringe of Solder Paste
At room temperature storage, what is the practical shelf life for a syringe of solder paste? What symptoms would one see when the syringe ...
Responses by:


■

Mike Scimeca, President, FCT Assembly




■

Brian Bauer, Business Manager, Heraeus Incorporated




■

Edward Zamborsky, Regional Sales Manager, OK International Inc.




■

Doug Dixon, Global Marketing Director, Henkel Electronics



Quote of the Day
"Keep away from people who try to belittle your ambitions. Small people always do that, but the really great make you feel that you, too, can become great."
Mark Twain
Test Your Knowledge
What do you call an atom that has fewer electrons than protons?
Answer: Positive Ion or Cation