April 22, 2014

Circulation Over 51,000
Test Your Knowledge
What is room temperature?
See answer below.
Cartoon of the Day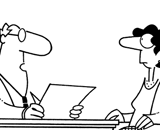 "You have been accused of cruel and abusive behavior. Is it true you made your staff sit through a PowerPoint presentation?"
Copyright © Randy Glasbergen
Nokia's Mobile Phones Move to Microsoft on Friday
The end is nigh. Or is that a new beginning? Either way you look at it, Microsoft on Monday announced that its $7 billion acquisition of Nokia's phone business will finally close this Friday, after regulatory delays slowed the deal. Microsoft general counsel ...
PC World
As Gameboy Turns 25, Has Nintendo Still Got It?
Nintendo's Gameboy has sold over 118 million units worldwide since it was released 25 years ago in April 1989. Helping establish the electronics maker ...
The Wall Street Journal
Neenah-based Plexus reports increase in quarterly income
Contract electronics manufacturer Plexus Corp. reported $18.5 million, or 53 cents per share, in net income for the second quarter, compared with $17.7 ...
Post Crescent
The first commercial drone test site is now operational
The first of six testing sites for commercial drones is officially operational. Today, the Federal Aviation Administration announced that a site in North ...
The Verge
Stencil Design for Ultra Fine Pitch Printing
Miniaturization is pushing the stencil printing process. As features become smaller, solder paste transfer efficiency is becoming more critical.
IPC Outlook - Production Floor
Tactile touchscreen buttons coming this year
At CES last year, a company called Tactus demoed a novel twist on touchscreen buttons. The approach pipes fluid into elastic bubbles that rise up from the ...
The Tech Report
Low-tech semiconductors are about to disrupt the energy industry, and no, we don't mean solar cells
Over the next five years, as the energy industry searches for new viable pillars of emerging clean technologies to fuel ever-growing demand for energy and ...
GigaOM
Reliability Assessment of Reballed BGAs
In this paper, SAC305 solder balls were replaced with SnPb solder balls and tested to evaluate the reliability of these reballed components.
IPC Outlook - Analysis Lab
Nanoelectronic circuits reach speeds of 245 THz
Researchers at the National University of Singapore have designed and manufactured circuits that can reach speeds of up to 245 THz, tens of thousands ...
Gizmag
3D Printing: Asking the Environmental Question
Though 3D printing is winning attention among designers and manufacturers alike, you have to wonder what the environmental implications might be. Hold on. I ...
EBN
Wearable Computing Market on 78% CAGR Through 2018
Shipments of wearable computer devices will reach 19.2 million in 2014, roughly tripling from the previous year, and will climb to nearly 112 million units ...
EE Times
Assembly and Reliability Investigation of PoP
This paper discusses the results of independent experiments to address aspects of successful Package on Package integration.
IPC Outlook - Materials Tech
Simplicity is key to co-operative robots
A way of making hundreds -- or even thousands -- of tiny robots cluster to carry out tasks without using any memory or processing power has been developed ...
Science Daily
Closing the Gap Between Data & Useable Info
There is a lot of industry buzz these days about big data and the ways it can be leveraged to improve a company's overall business intelligence processes. While ...
EBN
Biometrics expert slams Apple and Samsung fingerprint scanners as unsecured 'gimmicks'
It's pretty safe to say that computer science Professor Willy Susilo won't be relying on a fingerprint scanner to keep his mobile phone secure. In an ...
BGR
Survey Reveals What Today's America Thinks The Future Looks Like
In the next 50 years, Americans think they probably won't ride in driverless cars, that robots flying outside will have made everything worse, and that ...
Popular Science
Lead Emission for Selective Soldering
Is there a formula, process or tool we can use to measure the lead emission levels for our selective soldering machines? I understand the emissions ...
Responses by:


■

Gary Freedman, President, Colab Engineering



Quote of the Day
"Tell me, and I'll forget. Show me, and I may not remember. Involve me, and I'll understand."
Native American Proverb
Test Your Knowledge
What is room temperature?
Answer: Sixty-eight degrees Fahrenheit
Coffee Break
All You Need Are Friends
All you need to be happy in life are friends, and maybe food, and maybe clothes, and maybe a house and maybe ...