Intel, Micron Launch 'Bulk-Switching' ReRAM
Intel Corp. and Micron Technology Inc. have launched a new class of non-volatile memory that they have called 3D Xpoint and which the companies said would be available as samples later this year for special customers. At a webcast press conference company executives described the launch as a major development -- the introduction of the first new ...
EE Times
Can Asia Create the Next Silicon Valley?
With Internet giants like Alibaba Group Holding and an increasing number of technology startups valued at more than $1 billion, can Asia become the next Silicon ...
The Wall Street Journal
Time stands still for no tech
While many of you were hopefully enjoying yourselves at a beach or nearby (or on) some other body of water, at a ski or snowboard hill (believe it or not), or otherwise ...
EDN
Hacked Jeep: Whom to Blame?
So, where, exactly, did hackers find a crack in the firewall of a 2014 Jeep Cherokee? How did they infiltrate it and who's at fault for failing to foresee the ...
EBN
World's First Compact 3D Printer and Scanner
A start-up launched the world's first compact 3D printer that can scan any item, edit the digitized model and print it out in three dimensions.
Circuit Insight - Technology Briefing
What Anger Says About You
You would be surprised if you could ask your anger what it really means. If anger were sitting next to you when you got cut off on the road, what would it say? If anger ...
Entrepreneur
Optical Inspection from AOI and AVI Machines
AOI and AVI machines are different machines with different functions. This paper analyses the combination factors of AOI and AVI and the inspection objective.
Circuit Insight - Analysis Lab
Nokia launches virtual reality camera
Finland's Nokia, once the world's largest phone maker, has unveiled a spherical camera designed for making 3D movies and games that can be watched and played with ...
Reuters
From the Single Chip to Wafer Integration
The objective of this paper is to identify the various technological concepts and to give a focus on Chip in Wafer in Silicon technology.
Circuit Insight - Materials Tech
Cytec Announces Merger Agreement with Solvay
Cytec Industries Inc. announced it has entered into a definitive merger agreement with Brussels-based Solvay. The total cash consideration will amount to US$5.5 billion ...
Cytec Industries Inc.
Test Your Knowledge
What is an Aldis Lamp used for?
See answer below.
Ask the Experts
Dewetting of Acrylic Conformal Coating
We are using a no clean, alcohol based flux for wave soldering. After soldering we are coating the assemblies ...
Responses by:

| | |
| --- | --- |
| ■ | Greg York, Technical Sales Manager, BLT Circuit Services Ltd |
| ■ | Jim Williams, Chairman, Polyonics, Inc. |
| ■ | Greg York, Technical Sales Manager, BLT Circuit Services Ltd |
| ■ | Wayne Wagner, President, Krayden Inc. |
| ■ | Mike Konrad, President, Aqueous Technologies |
| ■ | Pierce Pillon, Laboratory Mgr., Techspray |
| ■ | Phil Kinner, Global Business Director conformal coatings division, Electrolube |
| ■ | Umut Tosun, Application Technology Manager, Zestron America |
More Ask the Experts
Quote of the Day
It is a common experience that a problem difficult at night is resolved in the morning after the committee of sleep has worked on it.
John Steinbeck
What Year Was It?
Johnson Signs Medicare Into Law
President Johnson signs Medicare into law. At the bill-signing ceremony, which took place at the Truman Library in Independence, Missouri, former President Harry S. Truman was enrolled as Medicare's first beneficiary and received the first Medicare card.

The day was Jul 30. What year was it?
Cartoon of the Day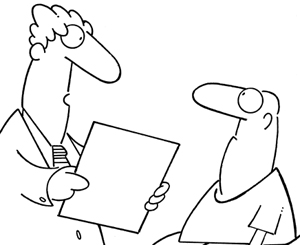 "You injured your hip again. You're getting too old to make lateral career moves."
Copyright © Randy Glasbergen
Test Your Knowledge Answer
What is an Aldis Lamp used for?
Answer: Signaling (Morse code)