Samsung Enlists Ukrainians to beat Hungary Labor Crunch
Samsung Electronics has recruited Ukrainian workers to keep its Hungarian factory running smoothly, it said, in a sign of the unconventional efforts local companies are making to beat a deepening labor crunch. Years of emigration to western Europe have created labor shortages in countries on the European Union's eastern flank such as Hungary, Poland and the Czech ...
Reuters
IPC: Global PCB Market Reaches $58.6B in 2015
The world market for printed circuit boards (PCBs) reached an estimated $58.6 billion in value in 2015 according to IPC's World PCB Production Report for the Year ...
Electronics Purchasing Strategies
The Supply Chain and the Downside of Data
The abundance of raw data-processing power and the advancement of cloud storage have enabled information to be captured as never before. Proponents of Big Data promise ...
Electronics Purchasing Strategies
Are You Singletasking Yet?
What are you doing while you read this? Are you dipping into your email while texting, reading tweets and partly listening at a meeting? Do you have your mobile ...
Entrepreneur
Will Typical No Clean Paste Pass an SIR Test?
Will a typical no clean paste pass an SIR test? Is it really clean enough for a conformal coating and 20 years of service? The Assembly Brothers, Phil Zarrow ...
Circuit Insight - Board Talk
Hand Soldering vs. Selective Wave
Do you recommend a selective wave soldering process for an LCD glass display? Would the high heat cause thermal damage to the LCD?
Circuit Insight - Ask the Experts
Test Your Knowledge
Name three chemical elements in The Periodic Table beginning with the letter "S".
See answer below.
Ask the Experts
Estimating Failure Rate During Rework
Is there a way to estimate the potential failure rate introduced by hand rework of one SMT part. The process ...
Responses by:

| | |
| --- | --- |
| ■ | Eric Bastow, Senior Technical Support Engineer, Indium Corporation |
| ■ | Leo Lambert, Vice President, Technical Director, EPTAC Corporation |
| ■ | Edithel Marietti, Senior Manufacturing Engineer, iDirect |
| ■ | Dr. Craig D. Hillman, CEO & Managing Partner, DfR Solutions |
More Ask the Experts
Quote of the Day
"Be kind whenever possible. It is always possible."
Dalai Lama
Cartoon of the Day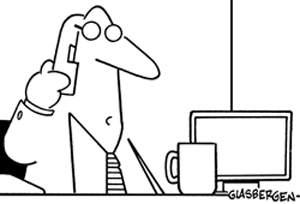 "If it's really important, write URGENT in the subject line and I'll be sure to ignore it immediately."
Copyright © Randy Glasbergen
Test Your Knowledge Answer
Name three chemical elements in The Periodic Table beginning with the letter "S".
Answer: Silver, sodium, sulphur, silicon, selenium, scandium, samarium, strontium