December 9, 2013

Circulation Over 51,000
Test Your Knowledge
When was artificial rain first used?
See answer below.
Cartoon of the Day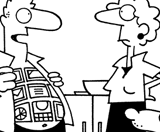 "My PowerPoint presentation went so well, I had it made into a tattoo!"
Copyright © Randy Glasbergen
The Complexity of Managing Materials Reporting
In a simple example of a chip capacitor used in a majority of electronic products today, SGS shows how complex it can be to identify and report on the materials used in an electronic component. This is a growing challenge for electrical and electronics suppliers and ...
Electronics Purchasing Strategies
Space Station: Benefit of Sharing Engineering Know-How
I will be getting the pleasure of exploring the Johnson Space Center in Houston, thanks to a really cool program called Speed2Design put on by Littelfuse. In this ...
EE Times
Micron Stabilizes, Predicts end of DRAM 'Arms' Race
After more than a decade of savage pricing pressures that devastated margins and profitability at suppliers combined with wild demand-supply swings, the semiconductor ...
Electronics Purchasing Strategies
Playing Next-Microsoft-CEO Bingo
The small, insular and inbred world of Microsoft watchers is on something of a hold at the moment, as we wait with breath partially bated to see who will run ...
TechCrunch
Solder Pallets With Titanium Inserts - Yes/No?
Our pallet manufacturer recommends titanium inserts to allow larger apertures near closely spaced surface mount components. These inserts are expensive. Are ...
IPC Outlook - Board Talk
The War For Your Wrist
The past decade has seen the consumer electronics war grow more furious and more personal: your living room is a battlefield, as are your desks and your pockets. ...
TechCrunch
Supreme Court to decide on patent protections for software
The Supreme Court agreed to rule on the divisive issue of what kinds of software are eligible for patent protection in a case being closely watched by the ...
Reuters
Why is Microsoft scared of Chromebooks?
"It's pretty much a brick," says Pawn Stars' Rick Harrison as he rejects a Samsung Chromebook brought in by an actor playing a customer. Microsoft really doesn't ...
The Verge
Super Tiny - Super Powerful Batteries
These new batteries are only a few millimeters in size, yet a driver could use a cell phone powered by these batteries to jump-start a car and then recharge the ...
IPC Outlook - Technology Briefing
Challenging Cleaning Problem
We are designing an ECG monitor that uses an embedded phone-modem LGA module. This phone modem is shielded, however, it is not hermetically sealed ...
Responses by:


■

Charlie Pitarys, Inside Sales Technical Manager, Kyzen Corporation




■

Terry Munson, President/Senior Technical Consultant, Foresite




■

Rick Perkins, Chemical Engineer / Owner, Chemical Logic Inc.




■

Lee Wilmot, Director, EHS, TTM Technologies




■

Fritz Byle, Process Engineer, Astronautics



Quote of the Day
"It is not because things are difficult that we do not dare. It is because we do not dare do things that are difficult."
Seneca
Test Your Knowledge
When was artificial rain first used?
Answer: Artificial rain was first used near Concord, New Hampshire, in 1947 to fight a forest fire.
Coffee Break
More Americans Outsourcing Jobs
A new report from the Department of Labor finds an increasing number of American workers are outsourcing their jobs.