July 31, 2014

| | |
| --- | --- |
| 51,000 Subscribers | |
Test Your Knowledge
Arrange these elements in sequence according to density (most to least): Gold, Platinum, Uranium
See answer below.
Six Flags Over Texas
Amusement park lovers "head for the thrills" as Six Flags Over Texas, the first park in the Six Flags chain, opens. Located on 212 acres in Arlington, Texas, the park was the first to feature log flume and mine train rides and 360-degree looping roller coaster.
The day was August 1, but what year was it?
Cartoon of the Day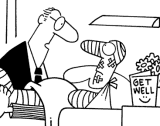 "Either lead, follow, or get out of the way. But never try to do all three at the same time!"
Copyright © Randy Glasbergen
Samsung Downbeat on Q3 Prospects
Samsung Electronics Co Ltd. reported its worst quarterly profit in two years and flagged uncertain earnings prospects for its key handset business, fuelling worries about its ability to return to growth. The downbeat guidance, as well as Samsung's decision to keep its interim ...
Reuters
Fab Capacity Stretched: Uptick in Sight?
For an industry that's been in the doldrums since the 2009 recession, the words "strained capacity at chip players across the industry" are, ironically ...
Electronics Purchasing Strategies
Apple to lay off about 200 people at Beats
Apple Inc intends to lay off about 200 people at Beats Electronics LLC following its $3 billion acquisition of the headphone and music streaming ...
Reuters
Rosin Flux or Water Soluble - Which To Use?
What are the differences between rosin based fluxes and water soluble fluxes? Under what circumstances should we use one over the other?
IPC Outlook - Board Talk
Is Huawei Eating Samsung'ís Lunch?
Looks like the threat is becoming more real for Samsung. Chinese smartphone makers Huawei Technologies and Lenovo Group gained market share ...
The Wall Street Journal
Cleaning PCB Boards with window cleaner?
I tried cleaning a PCB assembly with window cleaner. It did a marvelous job. Are there any conductivity issues that would arise if such a solution is used to remove flux residue?
Responses by:


■

Edward Zamborsky, Regional Sales Manager, OK International Inc.




■

Dr. Craig D. Hillman, CEO & Managing Partner, DfR Solutions




■

Leo Lambert, Vice President, Technical Director, EPTAC Corporation




■

Phil Zarrow, Principal Consultant, ITM Consulting




■

Tom Forsythe, Vice President, Kyzen Corporation



Quote of the Day
Knowledge that is not used is abused.
American Indian Proverb
Test Your Knowledge
Arrange these elements in sequence according to density (most to least): Gold, Platinum, Uranium
Answer: Platinum (21.45 density), Gold (19.29 density), Uranium (19.05 density)
Coffee Break
A Trip to the Movies
As today's action packed drama begins, Eephus want to see a movie with his pet rooster.