October 24, 2014

51,000 Subscribers
Test Your Knowledge
What does a phullumenist collect?
See answer below.
Cartoon of the Day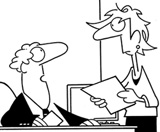 "Due to the recent budget cuts, there is no room in our budget to implement the recent budget cuts."
Copyright © Randy Glasbergen
New Wave of Wearables
It's finally happened. After much speculation and anticipation, Apple introduced to the world the Apple Watch, which means the tech giant is finally getting into the wearable space. While Google Glass and Galaxy Gear have long been in the market, Apple's watch could be considered ...
EBN
Local Knowledge Extends Quality in Global Supply Chains
Diversification and expansion in the electronics market poses many challenges: there is a rapid emergence of new markets, an extension of supply chains, increased logistics ...
Electronics Purchasing Strategies
BTU agrees to $32.5M buyout
BTU International Inc. said it has agreed to be acquired by Tempe, Ariz.-based Amtech Systems Inc. for about $32.5 million in stock. In a press release, the companies ...
The Lowell Sun
Microsoft Offers Tantalizing Signs of Progress
Sales in the PC business are still in the dumps. Traditional software sales are losing steam to cloud services. And many venerable technology companies are struggling to leap ...
The New York Times
Cloudy Copper Plating Bath
At a circuit shop near Los Angeles there was trouble with the copper plating line. Was an impurity getting in the tank and how?
IPC Outlook - Mysteries of Science
Google commits to $1 billion in long-term office leases
Google Inc said it is committed to spending $1 billion to lease office buildings over the next 13 to 14 years. Google did not say where the office buildings were located ...
Reuters
Microsoft Q1 sales jump, but Nokia drags down earnings
Microsoft revenue leaped 25% in the first quarter but profit dropped, dragged down by expenses tied to its ongoing wave of layoffs and to the integration of Nokia's phone ...
PCWorld
China's 5-Year Plan Revealed
The year 2016 will be the Year of the Monkey in China, as well as the first year of the country's 13th Five-Year Plan, this one spanning 2016 to 2021. The air is already ...
EE Times
Nano Silver Replacement for High Lead Solders
This paper includes details of mechanical and reliability testing of joints made with these materials under a range of temperature, pressure and atmosphere conditions.
IPC Outlook - Materials Tech
Reflections on Autonomy & Anonymity (of Cars & People)
The State of California has a reputation for being early and often when it comes to legislating, well, pretty much everything. So it comes as no surprise that the state ...
EBN
Foxconn eyes China display plant for $5.7 billion
Foxconn, the major manufacturer that assembles computing devices for companies like Apple and Microsoft, is considering investing in a new factory, a report claims. Foxconn ...
CNET
Which Term To Use - PWB or PCB?
Is there any real difference between the terms Printed Wire Board and Printed Circuit Board? Which do you recommend?
IPC Outlook - Ask the Experts
SSD Changes Storage Buying Patterns
In the enterprise server-class market, SSD and flash are causing major changes to sales of drives and storage-related gear. The performance boost that a SAN gets from ...
EBN
The Quest to Put More Reality in Virtual Reality
Philip Rosedale is telling me about his new company, but I can't stop myself from looking down at my hands. With palms up, I watch with fascination as I slowly wiggle ...
MIT Technology Review
Isaac Asimov Asks, 'How Do People Get New Ideas?'
How do people get new ideas? Presumably, the process of creativity, whatever it is, is essentially the same in all its branches and varieties, so that the evolution ...
MIT Technology Review
War on Counterfeit
Most electronics industry professionals agree that the industry is more vigilant and doing a better job of keeping counterfeit electronic components off the plant ...
TTI MarketEye
Oxidation on SMT Pads Causing Solder Problems
What causes oxidation on surface mount pads? We are finding that oxidation on BGA pads is resulting in poor solder joints.
Responses by:


■

John Vivari, Application Engineering Supervisor, Nordson EFD




■

EH Lim, Managing Director, Asia Pacific, ECD




■

Bjorn Dahle, President, KIC




■

Dr. Brian Toleno, Application Engineering, Henkel Electronics




■

Kris Roberson, Manager of Assembly Technology, IPC




■

Michael Ray, President, Integrated Ideas & Technologies, Inc.



Quote of the Day
"Making the simple complicated is commonplace; making the complicated simple, awesomely simple, that's creativity."
Charles Mingus
Test Your Knowledge
What does a phullumenist collect?
Answer: Matchbox labels